Wann:
6. März 2019 um 19:00 – 22:00
2019-03-06T19:00:00+01:00
2019-03-06T22:00:00+01:00
Wo:
Architrave GmbH
Bouchéstraße 12 12435 Berlin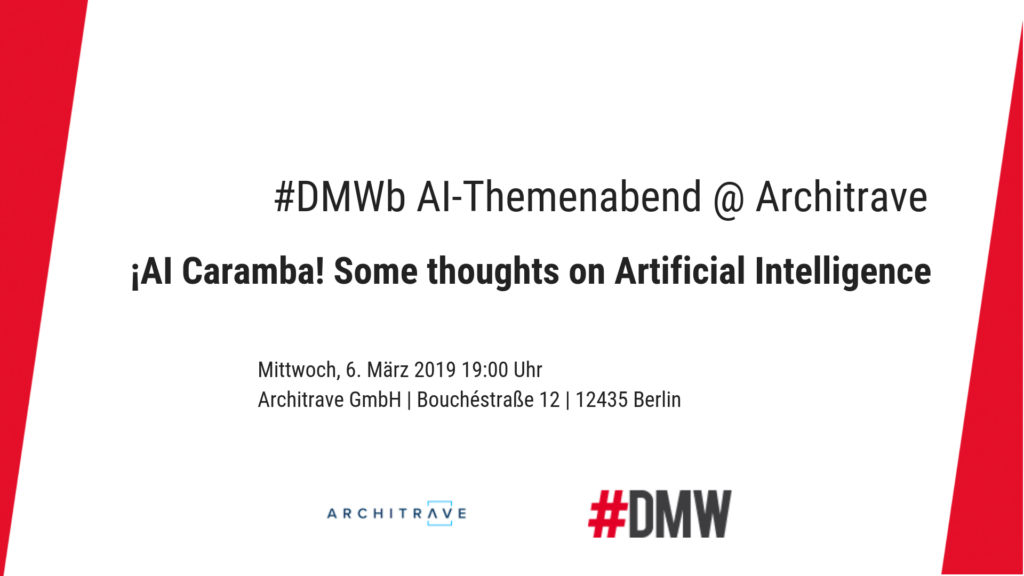 A buzzword of the present is Artificial Intelligence (AI). While some see it as a technological milestone, others fear for the progressive takeover of humanity by machines. Fact is, AI is a multifaceted topic and offers both pro- and counterpoints. Together, we will take a look at different aspects of AI, both from a service and an ethical perspective.
Please note that our event is in English!
Agenda:
19:00 – Welcoming DMW & Architrave
19:15 Giovanna Pedaletti: "AI for document classification – A quick dive into the tools of the trade for the automatic classification of documents"
19:40 Dr. Isabella Hermann: "Ethics and AI – How can we shape a good future with new tech?"
20:00 Q+A+Discussion
ca. 20:30 Start of netwoking and get together
Dr. Giovanna Pedaletti: "AI for document classification – A quick dive into the tools of the trade for the automatic classification of documents"
Verba volant, scripta manent. This holds true to this day, but we are all familiar with the rampant increase of volume for data connected to documentation, private and commercial. If not unfeasible yet, it is truly inefficient to humanly classify documents and extract information on routine documentation. Artificial intelligence (AI) can be a great asset for the field, when properly applied. Strengths and drawbacks of AI will be covered in this presentation. I will review the most widely used methods for document classification, specifically for text and image documents, together with an excursion into the essential step of data preparation. In order to understand the effectiveness of these method, we will learn about the most common evaluation metrics.
Dr. Isabella Hermann: "Ethics and AI – How can we shape a good future with new tech?"
Artificial intelligence has the potential to make our lives better in many ways, be it in industry 4.0, healthcare, mobility or education. One of the downsides is a possible consolidation of discrimination through data bias, since machines are currently learning on the basis of data – which is nothing else than people's digitalised experiences. This data carries the inequalities of history. If fed into a prediction system, injustice and discrimination against certain social groups will not only continue but be reinforced. To create a good future, we need to take measures to meet those challenges and establish a positive narrative to use the opportunities of AI. This means diversity and a sense for the social context of data among the coders, an informed and attentive society and above all this means bold policy and smart regulation to make sure that our democratic values including the protection of minorities continue to count.
Moderation: Nadine Bütow
About our speakers:
Dr. Giovanna Pedaletti is an astrophysicist by education and recently became a data scientist by profession. She graduated with a Master degree in Astronomy in 2005 in Bologna and continued to a pursue a doctorate degree, obtained in Heidelberg in 2009. In the following 8 years she has worked as a researcher in the field of very-high-energy gamma-ray astrophysics, where she gained experience in data analysis for noise-dominated large datasets. Since June 2018 she works as a data scientist at Architrave, where she entertains herself tackling document classification and information extraction.
Dr. Isabella Hermann is a political scientist exploring the ethical and social challenges that come along with the application of AI systems. Having always been fascinated by the socio-political impact of new technology she also publishes and talks on science-fiction and (global) politics. She currently acts as research coordinator of the interdisciplinary research group "Responsibility: Machine Learning and Artificial Intelligence" at the Berlin-Brandenburg Academy of Sciences and Humanities. The project explores the ethical challenges that come along with the application of smart machines and AI systems with the aim to elaborate recommendations to deal with the new technologies in a good way.
About our host Architrave GmbH
Architrave has the goal to make the real estate industry more transparent and efficient by introducing genuinely digital processes. Getting there involves a balancing act: It means finding solutions that, on the one hand, will restore order to a chaotic jumble of documents and, on the other hand, will permit managing large quantities of data and developing truly digital workflows. Architrave is a family-friendly employer seeking to work with its employees at eye level. It cares about a diverse work environment and has currently a share of 30% women in their tech-departments!